Armasight thermal weapon sights and ocular devices have a great name in short, medium, and long-range shooting and hunting. Thermal monoculars from Armasight are great assistance in scouting and target acquisition.
Their thermal monoculars come with high-quality thermal sensors and detectors. These high definition thermal detectors can detect any long-range targets even through smoke, snow, or fog.
Armasight Prometheus 640 HD Thermal Imaging Monocular is a recent addition to the thermal weapon sights line. It has HD thermal sensor, infinity focus range, digital zoom, wide objective lens, long detection range, high operating temperature, and magnification.
Prometheus 640 thermal monocular has specially designed for tactical conditions, long-range scouting, and target acquisition.
The compact design with the broad lens offers an excellent and crystal clear view of their targets.
Let review the Armasight Prometheus 640 HD Thermal Monocular in deep.
Armasight Prometheus 640 HD Thermal Imaging Monocular Review
Main Features
Sensor: 640 x 512 pixels
Operating Temperature: -40 – +50C
Magnification: 2.8x / 3.7x
Display: AMOLED SVGA 060
Objective Focal Length: 27 mm
Field of View: 8.3 x 6.6º
Battery Life: Up to 4 hr
Thermal Sensor and Display
Armasight Prometheus thermal monocular comes with the FLIR Tau 2 type of Focal Plane Array that has 640×512 pixels array format that is the resolution of the thermal sensor. This resolution helps to see even the small targets from long range.
It used 17 Microns size of FPA. This high definition thermal sensor can capture and process temperature range from -40 to +50C (-40 to +122F), which is enough for long-range scouting and shooting activities.
You get the Digitakzoom of 1x, 2x, 4x, and 8x with this high end thermal monocular.
To match the resolution of the thermal sensor and to offer the precise thermal details of the captured targets, this thermal monocular used AMOLED SVGA 060 display of 800×600 Pixel Display Format. Thus, a hunter or scouter will get every minute details of the scene.
With the high definition sensor and high pixel display, you can modify the brightness of the screen that is discretely adjustable to eight levels.
Sensor and Display are two critical parts of any thermal weapons whose quality makes sure the user gets a clear view and enough details of their target or the scene. With that said, Armasight Prometheus 640 HD monoculars never failed with a highly sensitive detector and HD display.
Objective Lens
After the sensor, the objective lens is the responsible unit for a comfortable view and detailed thermal images.
Armasight Prometheus thermal monocular has a Germanium Objective Lens with a 27 mm focal length. With this broad lens, you can focus the targets from 5m to infinity.
With this 27mm objective lens, you get 8.3 x 6.6 degrees of field of view angle so you can detect the targets from any angle and focus on prey from any distance.
You get 2.8x / 3.7x magnification that provides sharp images without compromising the image quality.
You get a manual adjustment for diopter that you can change in the range of ±5 diopter.
The 25 mm eye relief specially designed to guard your eyes and eyebrows. It also avoids the strain on your eyes while focusing.
Finally, the Exit Pupil Diameter is 14 mm that ensures the smooth zoom in and zoom out.
Though the 27mm Germanium objective lens is usual, it did its job well. There is no doubt that the factors and values associated with the lens are making this a high-end unit.
Image / Video
You can find the best and well-detailed image that can help you using the color palettes based on lighting conditions and your target.
This thermal monocular offers 13 color palettes that are White Hot, Black Hot, Ironbow 1, Ironbow 2, Color 1, Color 2, Fusion, Rainbow, Globow, Sepia, Ice-Fire, Rain, and OEM.
Armasight Prometheus provides Analog files with two Input and Output formats. It will take and deliver analog either in PAL format with 768×574 pixels or NTSC format with 640×480 pixels.
All of the above thermal images and videos can be stored in the temperature range of -50 to +70C (-58 to +158F).
With the high storage temperature, the device will store everything you see through the lens. A lot of color palettes offered with the monocular make sure the user gets the best image of their target based on the ambient light available and status of the target.
Battery and Operation
As the manufacturer mentioned that Prometheus 640 HD is specially designed or long-range, it should have the battery that can power up the device for a long time.
In that case, this HD monocular uses 2 x CR123A Lithium batteries that have the voltage of 3 V or 2 X CR123 rechargeable batteries with voltage from 3.0V to 3.7V that start up the device maximum within 3 seconds from a touch of a button.
Both CR batteries offer a maximum of 4 hours of working time. As the batteries are rechargeable and readily available type, there is no problem even if you take it outdoor for days.
Compact and Lightweight
Armasight comes with 700 g recoil resistance. The total weight of this thermal monocular without batteries is 1.9 lbs only.
This is truly a lightweight model in the class of long-range sights. The overall dimension of this unit is 220 x 89 x 89 mm (8.6 x 3.5 x 3.5 in).
Armasight created this compact thermal monocular for long-range tactical activities by reducing the weight and size without compromising the performance and features.
Additional Features of Armasight Prometheus 640
The Special user-adjustable imaging tools you get with this thermal monocular are:
Active Contrast Enhancement (ACE)
Second Generation Digital Detail Enhancement (DDE)
Smart Scene Optimization (SSO)
Information-Based Histogram Equalization (IBHEQ)
User-Controlled Manual Non-Uniformity Correction/Flat-Field Correction (UCMNUC/FFC)
Silent Shutterless Non-uniformity Correction (SSN)
The features of this device that you can control digitally are:
Palette
Enhancement
Settings
Display brightness
Electronic magnification
The current operational state pieces of information you get on the Display are:
Battery Status
Active Profile
Palette Setting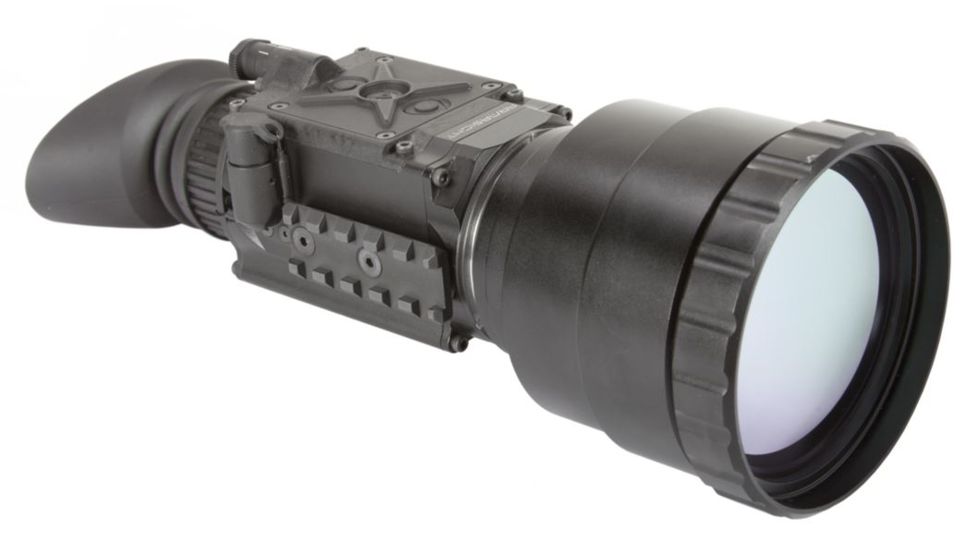 Final Words
Armasight Prometheus 640 HD thermal monocular has designed as lightweight and robust that is easy to operate as it comes with AWReC (Advanced Wireless Remote Control).
The Manually adjustable eyepiece and an objective lens with a real-time display in this device offer comfortable viewing and detailed thermal imaging.
The complete device unit is filled with dry nitrogen to prevent internal fogging. The hard and rugged construction makes sure the monocular resists water and fog at any environmental and weather conditions.