Thermal monoculars are prominent in standard technology devices that provide quality output, by detecting the heat emitted by an object, which creates a detailed image in a few seconds.
Undoubtedly, this brilliant technology will forever meet the expectations of different sectors of the user.
Approximately, monoculars are very similar to an ocular gadget, but they differ by capturing the scene through heat instead of light. To be more specific, oculars use night vision technology but thermal monoculars operate using thermal imaging technology.
Today I've reviewed AGM Global Vision Asp 2.4x35mm Thermal Imaging Monocular (Medium Range) which is considered as the best handheld observational thermal monocular in the industry.
So let's dive into the detailed review of this handheld thermal monocular and learn more about the product for the next purchase.
AGM Global Vision Asp 2.4x35mm Thermal Monocular
Specifications
Dimensions: 7.44″ × 2.91″ × 2.60″
Lens (focal length): 35mm
Field of View: 10.66° x 8°
Laser Light: 180m
Response Wavebond: 8um to 14um
Max. Resolution: 384X288 pixels
Detector Pitch: 17um
Optical Magnification: 2.4x
Digital Zoom: 2X
Palettes: Black, White, Red Hot
Display: 1024 × 768 pixels
Display Type: OLED
NETD: < 35mk(@25°C,F#=1.0)
Battery Type: Lithium-Ion
Power: 5V DC/2A, 2W
Working Temperature: -30 °C – 55 °C
Design
AGM Global Vision Asp Thermal Monocular is built with premium-grade materials and is equipped with magnesium alloy housing to ensure the safety of the device. But all of these components are strong and lightweight, which means you can carry this ultra-lightweight monocular in your hand for many hours, thus it's called a handheld thermal monocular.
The reason why it is known as a compact thermal monocular is that it is structured to fit in a standardized pocket. Furthermore, the exterior of the thermal device is configured with an IP-67 rated weather-resistant body that protects the monocular from corrosion and other external damages.
IR Detector
It is equipped with an updated infrared detector with a resolution of 384X288 pixels, for those who want to capture even the farthest target faster, providing better detail and better visualization of the target.
Sometimes a person can't detect or capture fast-moving objects because of a thermal monocular with a low-quality rangefinder. But surprisingly this medium-range thermal monocular is configured with high-grade Stadiametric Rangefinder to provide great performance for fast-moving targets.
Thermal Detector
A high sensitive thermal detector is integrated with this handheld observational thermal monocular provides a clear view in both day and night. Apart from hunting, AGM Global Vision Thermal Monocular equipped with a mixer of features utilized for locating downed games, observation, and many other tactical purposes.
The device indicates the hot spot of the highest temperature of the target you are thinking of facing. These thermal monoculars are mainly used in the field of law enforcement, hunting, rescuing, anti-smuggling, drug-enforcement, hiking, travel, criminal seizing, and so on.
Magnification Range
The monocular is fitted with the variable type magnification range of 2.5X as well as it comes with a digital zoom option thus the user can gradually increase the zooming from 1X to 2X range. This is enough range of magnification to detect the target even in the pitch darkness or too sunny.
The AGM Global Vision Asp 2.4x35mm Thermal Imaging Monocular has 17 micrometers to allow you to calibrate the required measurements. By this pixel pitch, you can precisely detect the target and can capture it.
Distance Measurement
When it comes to the calibration side, the target is accurately measured from top to bottom and then the height of a target is given as the input through distance measurement function. All of this process done within seconds. Built with a laser light device, it illuminates when the monocular target is detected, as well as when the battery is fully charged.
Field of View (FOV)
For providing better performance and deliver HD quality output, the monocular is built with the field of view of 10.66° to 8°. Because of the great FOV, you can get incomparable results without any delay.
For any visionary gadget, the lens plays an important role in providing a clear and wide view. In that way, AGM Global Vision Asp is configured with an objective glass lens has a 35mm diameter. Besides that, it captures HD images and high-resolution videos with a 50 Hz of refresh rate.
Power Supply
The whole unit is powered by a Lithium-Ion battery that has the ability to continuously operate the thermal monocular up to 5 hours. It will offer extra hours to operate if you properly handle this device. It won't get damaged by the weather, why because as I said before, this system is constructed with the water-proof materials that have the ability to block the entry of water and other debris to the device.
Storage & Connectivity
To store the data you captured, this 2.4x35mm thermal monocular comes with the 16 GB of internal storage capacity. So you don't hesitate to take images or recorded videos, just do a million clicks.
You can simply transfer the data to another device (PC/Laptop) with the help of USB cable which comes with this package. Also the Neck BeltProtective Bag, Operators Manual, Lens Tissue also come along with this package.
You can also capture snapshots from recorded videos and modify parameters and functions when monocular connects to your phone or communicates with the corresponding thermal imaging apps.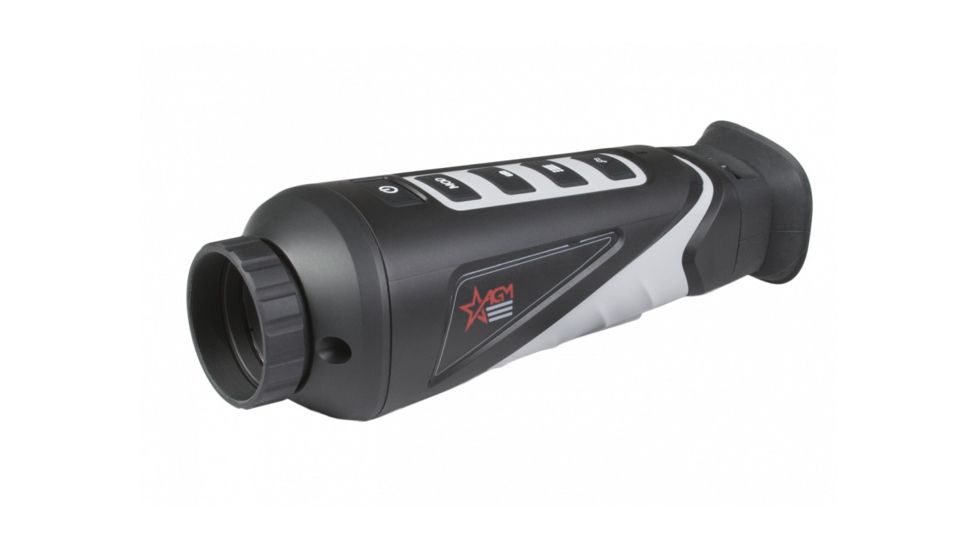 Conclusion
If you're a person looking for medium-range handheld thermal imaging monocular, this review surely aids you to clear all your queries and led you to choose the appropriate thermal monocular for your necessity.
AGM Global Vision Asp 2.4x35mm Thermal Imaging Monocular is a compact, pocket-sized, and handheld model that comes with a reasonable price range. The performance and output of the product are much better than other thermal monocular out there.