When the sun goes down, the lights go too, making hobbies such as hunting, hiking, and watching wildlife rather difficult. Night vision binoculars can extend your favorite activities late at night into the early hours of the morning. To find the perfect pair of night vision binoculars suited to your needs, we've put together a list of some of the best ones available.
On the contrary to night vision, there are also devices that capture thermal energy. Thermal imaging creates images from heat, not visible light, called infrared or thermal energy. Living things and mechanical equipment put out heat, making them visible to thermal devices even in the dark.
After comparing the numbers, price, and reliability of each binocular, the ATN Binox 4K Day & Night Smart Binocular trumps them. It may be on the pricey side of things, but it comes with every feature you'd need with night vision binoculars and then some. Whether you're a boater wanting an accelerator feature, or in need of a gyroscope for flying, or the big-game hunter looking for a quality long-range option, this bino has it all!
The Top Night Vision Binoculars Reviewed
Find The Right Night Vision Binocular For You
If you're the outdoor activist looking for an all-in-one binocular you can rely on day and night, the ATN Binox 4K Smart Binoculars should be right up your alley. Despite being a bit heavier than others on this list weighing at 2.5 lbs, ATN made up for it by designing in intricate features that any hunter, hiker, or outdoorsmen could take advantage of. 
Its built-in laser range finder makes it easy to find the exact distance of your target. Then ATN takes it a step further by including in Ballistics Information Exchange(BIX) technology that allows these binos to connect with other devices to send that data, showing you the most optimal point of aim. Additionally, BIX technology supports HD video recording that you can simultaneously live stream to other devices via Wi-Fi connection. 
To top it all, the ATN Binox 4K Smart Binoculars finish off at a weather resistance level of IP64, making it protected from any dust/debris and able to withstand any rainy weather.
Pulsar Edge GS Night Vision Binoculars are specially designed for long-range viewing thanks to it's five lens eyepiece and optics set up, making it perfect for the avid hunter. Not to mention it's 50-hour battery life so you never miss a beat no matter how far in the woods you trek. 
Whether used as binoculars or if you prefer to operate them as goggles, Pulsar equipped these night vision binoculars with a built-in long-range Infrared Illuminator and a unique CF-Super Image Intensifier Tube designed for when you need additional lighting power at above-average distances. Pulsar Night Vision binocular also features a sealed metal and plastic body that keeps the fog, rain, and sand at bay.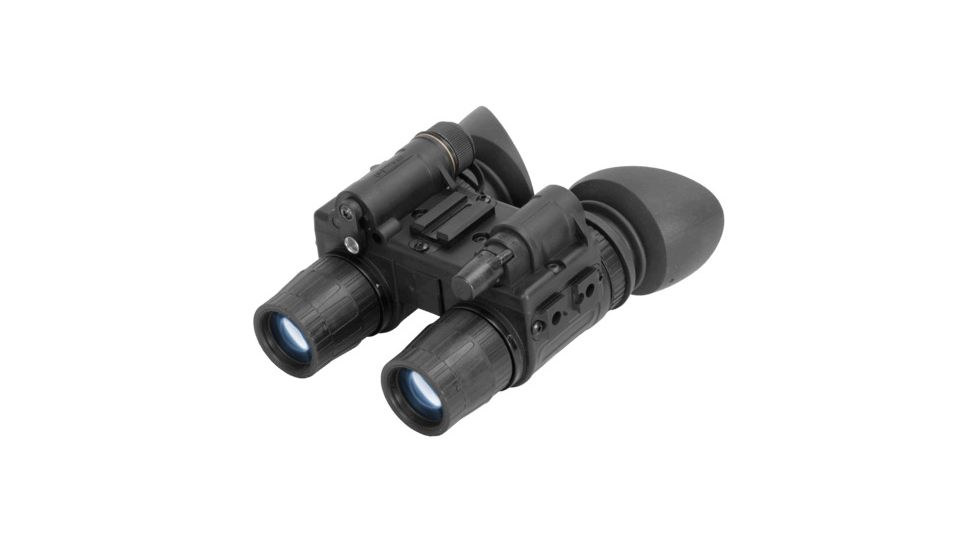 The ATN PS-15-WPT Night Vision Goggle's price may deter you at first glance but they also double as a binocular with optional 3x afocal lenses to feature higher optical magnifications to let you see longer distances. PS-15-WPT Night Vision Goggles, along with a new line of select units, are being introduced by ATN with their White Phosphor Technology (WPT). 
Black and white color provide clearer information about contrast, shapes, and shadows.  Operators that tested units that use ATN WPT reported a significantly better degree of detail, overall contrast, full moon similarity, and range of shades. These goggles were designed for Special Ops and are most definitely not for the fainthearted. So if your life depends on your gear and you want to improve your operational effectiveness you should check WPT out. 
Compared to other night vision goggles on this list whose degree of angular view doesn't break double digits, WPT goggles have a 40-degree angular view to offer a wide view of your surrounding vicinity. Between it's advanced WTP technology and broad viewing range, the ATN PS-15-WPT Night Vision Goggles live up to its price with its cutting-edge technology.
Maybe you're a newb to the realm of the outdoors or just don't need all the fancy add-ons other binoculars have that indefinitely raise the price. A more simple night vision option, like Atomic Beam Night Hero Binoculars, maybe more suiting for some people. It's small and water-resistant in design, so not even rain will slow it down.
The Night Hero Binoculars are equipped with an atomic night vision laser that can reveal objects up to 150 yards away in the dark. These day and night binoculars have a 10x magnification, compared to others on this list, so you can see your surroundings clearly and up close.
Best Night Vision Binoculars Brands
ATN created this all-in-one night vision binocular to satisfy the needs of any outdoorsmen with tons of features to suit whatever outdoor passion that fires you.
It's built-in laser range finder makes it easy to find the exact distance of your target. Then ATN takes it a step further by including Ballistics Information Exchange(BIX) technology that allows these binos to connect with other devices to send that data, showing you the most optimal point of aim. Additionally, BIX technology supports HD video recording that you can simultaneously live stream to other devices via Wi-Fi connection. 
To top it all, the ATN Binox 4K Smart Binoculars finish off at a weather resistance level of IP64, making it protected from any dust/debris and able to withstand any rainy weather.
Barska NightVision NVX300 Infrared Illuminator Binoculars feature battery life that can last up to a year and only weighing in at a pound, making it the perfect accessory for any hike in the woods.
Whatever the activity, Barska outfitted these night/day binoculars to have 5x magnification with 2x digital zoom giving you a crisp, clear view so you never miss a thing. Rain or shine, record images and videos with Barska's built-in tripod mount to give you a steady hand to capture necessary moments. The NVX300 features an infrared illuminator that allows you to view up to 100 meters in the dark.
The Bushnell Night Vision Equinox Z Monocular is a great option to consider if the original binocular isn't quite your cup of tea, but don't want to ditch the magnification power or night vision capability.
The Equinox Z Monocular with 3x digital zoom is rigged with an adjustable Infrared Illuminator that can light objects up to 500 feet away. Whether you're bird watching, hiking, sightseeing, or hunting, these monoculars allow you to capture pictures and video recording ease, along with it's tripod mount compatibility. And with a water resistance level of IPX-4, Bushnell's Equinox Monocular can withstand water splashing from any direction.
Types of Night Vision Binoculars
Gen 1
If affordability is at the forefront of your mind when deciding what binocular to buy, then Gen 1 is great to pick from. Despite some of its technology dating back to the early 1960s, they're perfect if your goal is to stay in budget while still being able to do a lot.
Maximum useful range is about 75 meters 

Lower resolution; not as bright

Shorter battery life

Susceptible to image distortion due to excessive light

Small field of view

Shorter life expectancy: Gen 1- about 1,500 hours, Gen 2- about 5,000 hours, Gen 3- about 10,000 hours
Gen 2
If the Gen 2 models are in your price range, then it's certainly worth it as there's a huge step from Gen 1 to Gen 2. A decent Gen 2 is a lot closer to Gen 3 in performance than compared to Gen 1. The biggest decision is whether to just go all the way to Gen 3 or to stick with Gen 2.
Longer range (200 meter range depending)

Better resolution; brighter, clearer images

Can operate without IR illuminator

Less susceptible to image distortion

3 times longer battery life than Gen 1
Gen 3
Gen 3 autogated is the real deal night vision that our US Military and Special Forces, so you know it's the best. There are multiple levels within this generation, and this is also where image intensifier tubes were first introduced.
Longest ranges (300+ meter range depending)

Started introducing image intensifier tubes

Also introducing intensifier tubes with autogated power to work in all lighting conditions

Best low light performance

Longest life expectancy
Gen 4
There actually isn't a Gen 4 classification, according to the US Army. After they tested for its reliability and lifespan, they concluded that the technology didn't meet their requirements and renounced the Gen 4 classification. On the other hand, there is new tech out there similar to Gen 4 called Filmless Gen 3 but is still classified as Gen 3. Now companies just use the term Gen 4 as a marketing ploy to claim they have the best image quality.
Night Vision Binocular Buying Guide
What to Look for When Buying Night Vision Binoculars
With all the technical jargon and numbers thrown at you by manufacturers in an attempt to catch your eye, make it confusing to figure out what numbers refer to what and what exactly all the terminology means. Here is some common binocular terminology explained:
Image Quality
Optical Glass: the quality of glass used for the optical in binoculars make a huge difference in how sharp, bright, and colorful the view will be. The more precision going into the glass employed by its construct, the better the image quality. Quality binoculars will have an extensively designed, shaped, and polished optical, using a dense optical glass to eliminate image distortion.
Anti-Reflection Coatings: The number of anti-reflective coatings applied to binoculars and exactly what type they are, play a big factor in how clear and crisp your image quality will be. These coatings are meant to eliminate internal reflections and light scattering, reduce glare, and produce sharper images with more detail.
Exit Pupil: Exiting each eyepiece of the binocular is a beam of light that enters the users' eyes called the exit pupil. Naturally, the larger the exit pupil, the brighter and more exceptional the image is produced. The exit pupil is measured in millimeters and is calculated by dividing the objective lens by the magnification.
Magnification and Objective
All binoculars are distinguished by a set of numbers such as 2.7×50 or 16×65; which refer to the magnification and objective lens diameter of the binocular. Taking 16×65, the 16x means the binocular has 16x magnification power, making the view appear 16x closer than it does to the naked eye. 
Sports fans or bird watchers should be happy with a range between 5x and 7x, while the avid hunter would relish in a 10x model or higher for long-range distances.
The '65' in this 16×65 scenario is referring to the diameter of the objective (front) lens in millimeters. Being that the objective lens is often the largest portion of the optic, it will affect the overall size and weight of the binocular and how much light can pass through. Larger objectives allow more light to pass than smaller lenses; making the view appear brighter, sharper, and clearer. 
Digital Zoom 
Binoculars capable of zooming offer variable magnification and are shown like 4-16×65, 4x at the low end, and 16x being the high. On most, models will have a thumbwheel or lever placed within reach to you can adjust the magnification without changing grip or taking the binoculars away from your face
While digital zoom offers great versatility, there may be an apparent deterioration in image brightness and clearness somewhere along the zoom range. Since the physics of prisms and the optical path will have been optimized at a single power, as you move away from that magnification, the image quality may warp.
Field of View/Angle of View
Both describing the amount of scenery that visible when looking through optical, the terms Field of View(FOV) and Angle of View(AOV) are one in the same. Just separate ways of looking at and measuring a binocular's capacity of view. Generally speaking, the higher the magnification and smaller the objective, the narrower the field of view.
Imagine standing in the middle of a typical, circular cake; a pair of binoculars that have an AOV of 8 degrees would show an 8-degree "slice" of the 360-degree cake. While FOV measurements indicate the width of the view you see through the binoculars at a specified distance, it is most often represented in feet at 1,000 yards.
Focus
Most binoculars are typically known for their main focus lever set on the bridge between the two oculars and moves symmetrically. This is what's called Center Focus, when referencing to how a particular binocular focuses its view. Many manufacturers include a dioptric adjustment dial on the eye lenses to fine-tune the focus to match individual prescriptions. 
Individual Focus models erase the use of the center mechanism all together to give each eyepiece the ability to move and focus independently. This permits extremely fine and precise focusing but can be frustrating to share if there's more than one user. While Focus-Free devices don't have any focusing mechanism at all. Instead, they rely on your own eyes to focus on the image. This focus type isn't recommended for users with poor eyesight or weak eyes as free-focus models put a lot of stress on the eye, which can cause headaches and eyestrain.
Weather Proofing
Water-Resistant: Binoculars rated water-resistant are designed with O-rings to prevent moisture from getting inside and built to withstand rainy weather. Though, keep in mind water-resistant binoculars still can fog up. Depending on its structure and seals, some manufacturers have constructed their binoculars to tolerate being completely submerged underwater for various amounts of time. Other binoculars have pressurized air inside their optical tubes, rated to lock out dust and debris along with water
Fog Proof: Fog occurs when the air inside a pair of optical tubes contains moisture. For example, if you go from a warmly lit cabin to chilly conditions outside, the moisture condenses on the inside of the lens causing the fog to form. Fog proof binoculars are filled with an inert gas like Nitrogen or Argon (or both) to prevent fogging. The dry gas is inserted into the optical tubes under pressure to keep gaskets and O-rings tightly in place.
Infrared Illuminator
An Infrared Illuminator is a tool that emits light on the infrared spectrum where the wavelengths are longer than visible light and is typically experienced as heat.  Although IR light is visible to the naked eye, in the night, infrared light works like a flashlight. 
All night vision devices require at least a small amount of IR light to work, though most devices coming from Gen 2 or Gen 3 can make use of very little moonlight or starlight. But in circumstances where there is no visible light what so ever, even the most advanced night vision models require an IR illuminator in order to function.
Conclusion
The number of options, power, and added features can make picking the right night vision optic pretty confusing. Our top pick of ATN's Binox 4k provides features that any boater, aviator, hunter or hiker could make use of including, it's 1,000m laser range finder, 3D accelerator/gyroscope, and live stream video recording. We hope our review on night vision binoculars provides you with the confidence you need to make the smart purchase.