Although monocular is similar to a telescope in terms of mechanism, they differ in various features and construction.
Monoculars are small and lightweight equipment that has been widely utilized by hunters and tactical users.
The device is named Monocular because it requires the user to see the target through one eye. And here "mono" is a Greek word which means one, and "ocular" is a Latin word which means eye.
Thermal monoculars are a device that incorporates the thermal technology of optics using the monocular mechanism.
Unlike ordinary monoculars, advanced features are included with this like a built-in compass, rangefinder, and zoom power.
Here I've reviewed the Global Vision Asp 1x25mm Short Range Thermal Imaging Monocular engineered by AGM.
With its features and updated technologies, you can optimize your tactical experience and other safety purposes. Let's move on to the detailed review.
AGM Asp 1x25mm Short Range Thermal Imaging Monocular
Specifications
Sensor Type: FLIR Tau 2
Sensor Resolution: 640×512 pixels
Pixel Pitch: 17 micrometers
Display Resolution: 800×600 pixels
Lens Diameter: 25 mm, 50mm, 75mm
Digital Zoom: 1x, 2x, 4x, and 8x
Field of View: 24° X 20°
Focus Range: 2.5m to Infinity
Battery Life: 4 hours
Battery Type: CR123, CR123A
Mount Type: MIL-STD 1913
Operating Temp.: -40 – 50 Celsius
Diopter Range: -5 to 5 dpt
Interface: MIL-STD-1913 Rails
Construction
To ensure the capability and safety of this short-range thermal imaging monocular, it's built with premium-grade aluminum alloy (Aircraft-Grade).
And it comes with a rugged housing to provide durability and reliability to this construction.
Even the sophisticated user can comfortably use this thermal monocular in any manner because it gives an outstanding performance.
All the materials of AGM short-range monocular have water-resistant features to protect the device from damages such as corrosion, rust, etc caused by bad weather.
Thermal Technology
A sensitive thermal sensor is fitted in this monocular to captured the IR radiations of various objects.
Thereby the monocular converts the radiations into an appropriate image, usually, these images are grayscale in nature.
This thermal monocular highlights hot objects in white color and cool objects in black color to ensure the temperature difference.
Thermal Sensor
This thermal device is configured with FLIR Tau 2 type thermal core sensor with a resolution of 640×512 pixels.
Along with that, AGM engineered this monocular with a VOx microbolometer type detector to trace the target even at the pitch darkness.
There is a diopter integrated into the monocular device which provides an adjustable range from -5 dpt to 5 dpt to handle the unit precisely.
Objective Lens System
Similar to AGM Asp 1.7x25mm Short Range Thermal Monocular, the 1X25mm model comes with three different lens systems: 25mm, 50mm, and 75mm.
The 25mm is recommended to use for short-range detection, thus you can clearly view the object that nearby your surrounding.
Next, the 50mm medium-range objective lens is used to detect the target that in an appropriate range even at complete dark.
Finally, the 75mm long-range objective lens is perfectly suitable for all your long-range tactical applications.
This durable and lightweight design has the rugged and rubberized eyepiece which is manually adjustable.
As well as the optical system has a focus range from 2.5m to Infinity to view closer the target.
Image Process
The pocket-sized thermal monocular configured with the Field of View of 24° X 20° thereby you can get a wider range of detection in dense forest and crucial positions.
The core sensor presents with the pixel pitch of 17 micrometers, therefore it delivers the stunning output with crystal clear quality.
This AGM 1x25mm Short Range Thermal Imaging Monocular equipped with an HD display with a resolution of 800×600 pixels, by this you can be viewed your detailed sessions without interactions.
Although it is a short-range monocular, it precisely targets distant objects due to its intuitive performance.
You can also gradually increase the digital zooming from 1X to 2X to 4X to 8X to get maximum precision while hunting.
Power System & Interface
The entire unit can be continuously run-up to 4 hours with the help of two standard CR123 or CR123A type batteries.
In critical situations, you can charge the device by connecting the monocular to other power systems via USB cable.
An external WiFi module comes with this model for interfacing, besides, a wireless remote control system also comes with the unit to access it effortlessly.
Monocular is operated at the temperature ranging from -40°C to +50°C. Integral MIL-STD-1913 Rails (mount type) is one of the optional accessories that come up with this unit.
Other than rails and USB, soft lens cloth, carrying case, and user manual are included with the unit.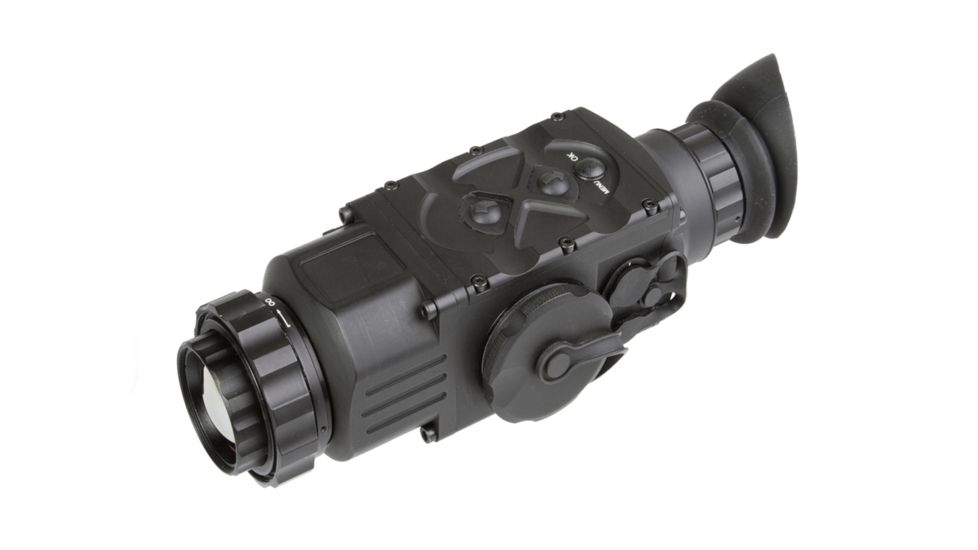 Final Words
AGM is a reputable product manufacturer that produces riflescopes, spotting scopes, binoculars, night vision scopes, night vision goggles, clip-on systems, and so on.
AGM 1x25mm Short Range Thermal Imaging Monocular is in the line of best short-range thermal monocular.
You could confidently purchase this product, though the price is a bit high when compared to other short-range devices.