If you are a person looking for the best thermal imaging bi-ocular that combined with the latest technologies and well-built mechanism, then that means you're in the right place to get your dream equipment.
Here I've reviewed the Explorator TB Thermal Imaging biocular designed by the AGM Global Vision manufacturer.
This is one of the affordable thermal monoculars selling on the market that comes with two different ranges of magnification.
Most thermal imaging monoculars are intended to designed with ergonomic materials to operating in military training, territory exploration, covert mission, law enforcement activity, rescue mission, and so on.
All thermal imaging monoculars from the AGM Global Vision are built with tough and rugged to ensure the protection of both device and user.
Let us dive into the detailed review of Explorator TB Thermal Imaging Biocular to know more about it.
AGM Global Vision Explorator TB Thermal Bi-ocular
Specifications
Dimention: 10.7 x 4.9 x 2.5 in
Magnification: 2.5X and 3.75X
Detector Type: 17m Microbolometer
Sensor Resolution: 384×288 pxl
Refresh Rate: 50 Hz
Display Resolution: 1024×768 pxl
Lens System: 50 mm; F/1.0
Field of View: 7.5 x 5.6 degrees
Digital Zoom: 1X, 2X, 4X
Focusing Range: 10m to infinity
Diopter Adjustment:-5 to +5 dpt
Video/Photo Format: AVI / JPG
Battery Type: CR123A 3V Lithium
Interfacing: S620 Connector
Operating Time: Up to 5 hours
Rugged Housing
This thermal imaging device is outfitted with premium-grade aluminum material to assure the safety and quality of the bi-ocular.
Along with that, it's built with a magnesium alloy housing to ensure the durability and reliability of the entire unit.
Due to the IP67 rated water-resistant feature of its material, the thermal imaging bi-ocular can operate even in the worst and challenging weather conditions.
And it allows the user to operate with one hand because of the ultra-lightweight construction and compact design.
With this waterproof feature, it has the ability to submerge up to 30 minutes into 3 feet.
Thermal Sensor
The AGM Explorator TB Bi-ocular is a brand new thermal device bonded with the latest thermal imaging technology and technologically advanced core sensor to make your hunting experience to the next level.
As usual, all the thermal monoculars effectively detect the object by its heat signature both night and daytime.
This thermal technology has been highly enhanced due to the myriad requirements in all the fields. Explorator TB is the best observation device for all kinds of tactical applications.
The Explorator TB Bi-ocular has the thermal resolution of 384×288 pixels to provide great performance,
Magnification & Focusing
AGM Global Vision proudly presents two versatile Explorer TB Thermal Imaging bi-ocular models with two different magnification ranges: 2.5X and 3.75X.
Besides, both modes come with three continuous digital zoomings as 1X, 2X, and 3X.
With a great magnification and digital zoom, the thermal bi-ocular offers stunning focus while detecting the target in pitch darkness.
The engineer has brilliantly designed the device to offer blur-free and focus-free thermal imagery, thus the user can receive mind-blowing operations.
Objective Lens
As we know that the AGM produced two Explorer TB models with different magnification, due to that it's composed of two Germanium Optical Lenses with a diameter of 50mm and 75mm.
These military-grade objective lenses permit the user to choose a suitable version of the work at hand, thus you can select whatever you want.
Images & Videos
Due to the excellent thermal resolution, both the videos and images captured by the device are delivered with HD quality and high pixels.
With this cutting-edge technology, the images are produced with ultra-smooth and very detailed.
For viewing the footage shot by the device, there is an HD display with 1024×768 pixels of resolution. Moreover, you can download that footage in two optional formats such as AVI and JPG.
Like AGM Global Vision Victrix TC Thermal Imaging Monocular, this thermal bi-ocular has the 11 colors thermal imaging palettes feature.
They highlight the hottest place in the image with the color depending on the palette you select.
Power Supply & Operation
The whole unit is powered by the two 3V Lithium batteries that come from the CR123A type.
The operation of the device would go for up to 5 hours continuously, and some users reported the operating time extends if you properly maintain the device.
You can charge the device from the external power supplies like 5V USB / 3.6~7.2V via the micro-USB adaptor that comes with the unit.
The thermal imaging bi-ocular is furnished with an operating temperature of about -40C to +70C (-40F to +158F).
That means it has proven to perform well in both freezing temperatures and extreme heat.
Interface & Accessories
Often hunters mount the monoculars in the rifle to swiftly shoot the object when the point is fixed.
So for that point, the user needs to interface the monocular with the rifle or any other device. For that reason, it comes with an S620 Connector interface.
Not only for that, but the interfacing is also used for some other applications like Digital Video Recorder, Analog Video In/Out, Power In, etc.
A soft lens cloth is given to wipe the lens while you work in the surroundings such as fog, dust, smoke, and snow.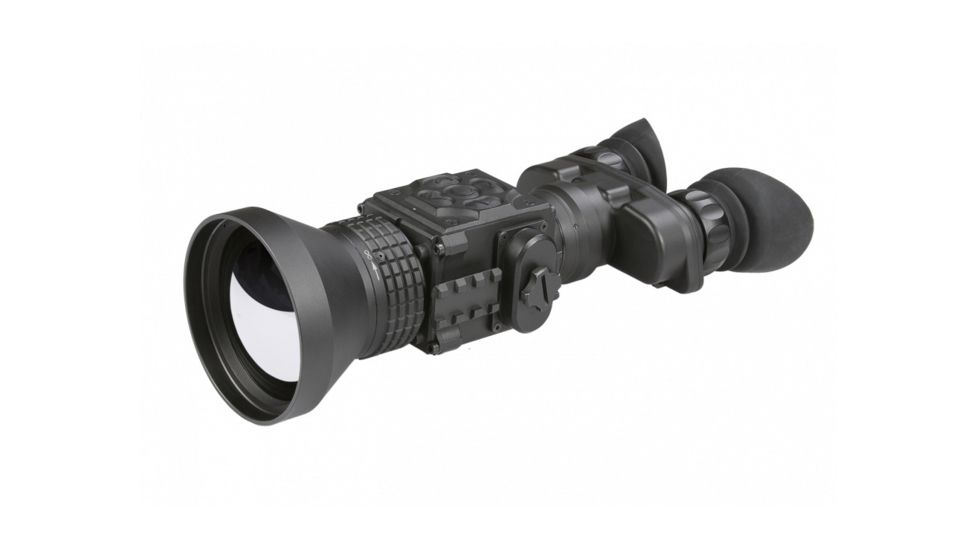 Final Words
The AGM Global Vision Explorator TB Thermal Imaging Bi-ocular is constructed with a multi-core thermal sensor and high pixel resolutions to offer the best result both pitch darkness and too sunny.
And it can operate in any critical situation because it is constructed with military professional materials and composed of several aspects.
With the help of this review, I hope you will definitely make a good decision regarding your current or next purchase for quality thermal imaging monocular.
Comment your queries about AGM Global Vision Explorator TB Thermal Imaging Monocular. We'll clear it to you as much as possible.